How to Maximize a 48-Hour Vacation in Myrtle Beach – The Best of Myrtle Beach
Posted on August 28, 2020
Only have 48 hours to spend in Myrtle Beach? No worries, we're here to help make the most of your precious time on the Grand Strand. Grab your essentials – face mask, sanitizer (safety first!) then have a great time!
Day One: 
8:30 am – Coffee with a beach-side view!
Start your trip off on a beachy note watching the waves roll in with a cup of joe in hand at Boardwalk Coffeehouse. Fuel up with a quick bite to eat and consider walking down the boardwalk for a leisurely morning stroll. Be sure to check out all the cute shops along the way!
10:30 am – Play on the beach
Now that you've gotten your caffeine fix, you'll definitely want to hit the beach! No matter what season you're planning on visiting, there is always something for everyone. When the beach isn't bathing in sunshine and it's slightly too chilly to ride the waves, you can enjoy Frisbee throwing, kite flying and lots of picnicking!
1:00 p.m. – Lunch at Bummz Beach Cafe 
Burgers, fries, and cold drinks… what else could anyone want after some good times on the beach. This cafe is the perfect laid-back spot to get that good grub.
3:00 p.m. – Broadway Grand Prix
For a plethora of fun, head to this attraction complex that offers go-karting, mini golf, arcade games and more!
6:30 p.m. – Ride the Myrtle Beach Skywheel
Experience Myrtle Beach from new heights on this classic attraction. With a view of the boardwalk, coastline, and ocean while 187 feet in the air, you'll be in awe of your surroundings, especially as the sun goes down.
8:00 p.m. – Late Night Fun
Option A: Kid Friendly 
Top off a long day in the sun with some friendly family competition at this upscale bowling alley. In addition to bowling lanes, this facility has all your favorite games including darts, foosball, billiard tables, corn hole and more!
Option B: For the Adults 
End the night with a laugh watching touring comedians at this 5-star comedy club.
Day Two:
9 a.m. – Hollywood Wax Museum Entertainment Center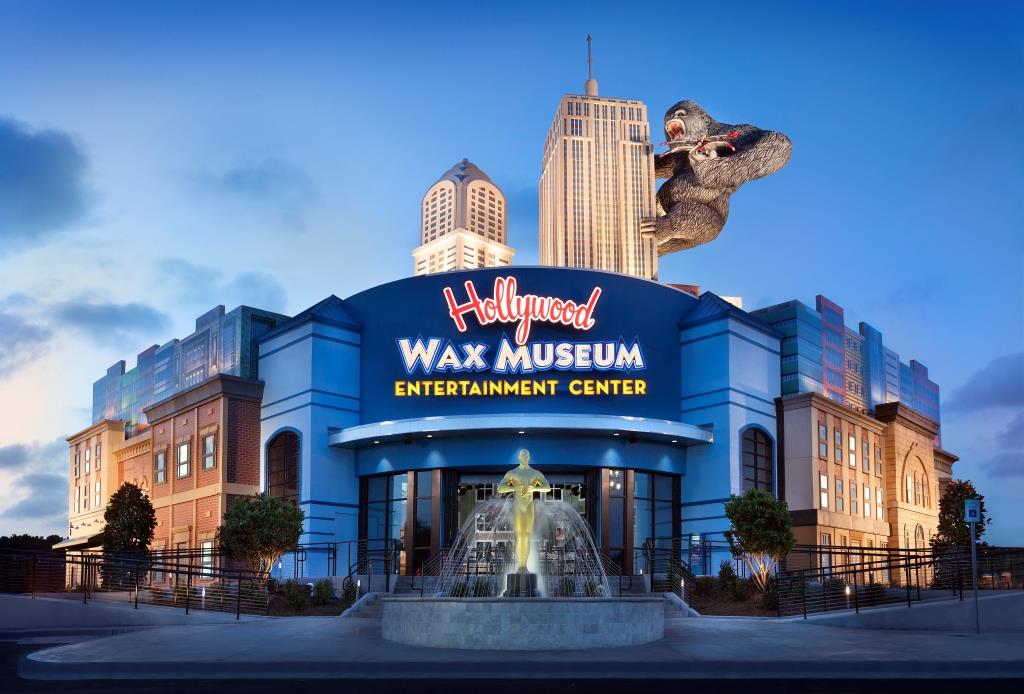 For some non-beachy fun, stop by the Hollywood Wax Entertainment Center and experience three great attractions. Get star struck at the Hollywood Wax Museum where you'll find your favorite A-listers, be a hero by saving the princess within infinite reflections at Hannah's Maze of Mirrors, and have scary fun in Outbreak while steering clear of the zombies!
12:30 p.m. – Broadway at the Beach 
Stopping by Broadway at the Beach when you're in town is an absolute must. It's a hot spot for shopping, dining, entertainment and more! Grab some lunch and prepare to spend some time exploring this outdoor complex.
6 p.m. Attend a Dinner Show
Keep the entertainment rolling with one of Myrtle Beach's must-see dinner shows! We recommend the Pirates Voyage and Medieval Times Dinner Theater, which both include a four-course meal.
9 p.m. – More Late-Night Fun
Option A: Kid Friendly
Choose between three different escape scenarios and find out if you group has what it takes to beat the clock! Work together to reveal clues and solve puzzles in an attempt to escape the game and end the night on a high note.
Option B: For the Adults!
If your group is into country and rock shows, head to this Myrtle Beach landmark for live entertainment in a friendly and relaxed environment, perfect for topping off your mini vacay. Cheers to a great 48 hours!
Hopefully this quick trip itinerary helps guide your two days filled with lots of smiles and memories. We can't wait to see you in our beloved Grand Strand!