Things To Do In Pigeon Forge – Taste The 'Shine
Posted on September 19, 2018
Moonshine was born in the South, and Tennessee was one of the states with the largest number of stills during prohibition. So it's very much a Southern thing to go moonshine tasting and one of our highly recommended things to do in Pigeon Forge, Tennessee. From Ole Smoky Moonshine, found just down the road from Hollywood Wax Museum Entertainment Center, to Doc Collier Moonshine in neighboring Gatlinburg, we've got some creations that will curl your tongue.
Ole Smoky Moonshine – Ole Smoky has several locations to experience its flavor, but our favorite is just a stone's throw away at The Island in Pigeon Forge. Known as the Ole Smoky Barn, moonshine made at this location is jarred, labeled and sold on site. Or, head on over to The Holler, the most visited distillery in the U.S. in Gatlinburg, for an Ole Smoky experience. There, you can take in the entire cooking and fermentation process from beginning to end. Of course, samplings are available daily at either location.
Local restaurants also have incorporated Ole Smoky Moonshine into their mixed drinks for cocktails exclusively available in the South. At Margaritaville at The Island, for instance, you can enjoy a Blackberry Moonshine Margarita made with White Lightnin' and Blackberry moonshine, or their Tropical Thunder made with Blackberry and Hunch Punch moonshine.
Tennessee XXX Moonshine – Enjoy free tastings and take a tour of the distillery at this Pigeon Forge location. Known for the fun specialty flavors it creates, Tennessee XXX Moonshine features tastes such as Big Orange Dreamsicle, Dream Cream, Chocolate Mint, Green Apple and Coffee Shine. "Respect the Shine" is Tennessee XXX's motto and with those creative flavors, we think you'd have to!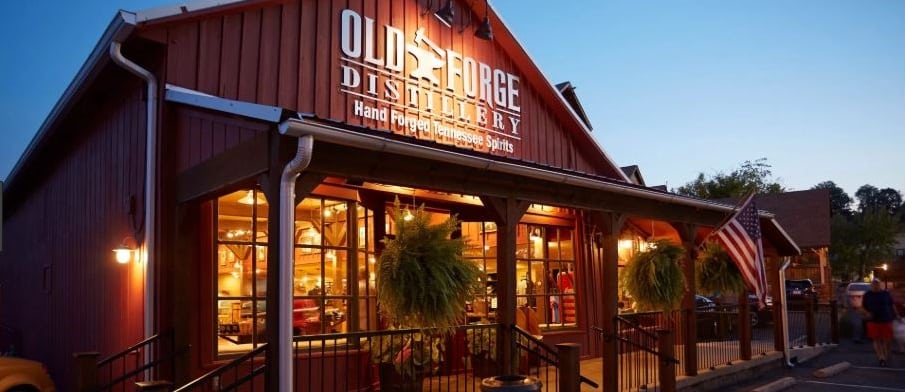 Old Forge Distillery – With more than 200 years of distilling experience, we'd say Old Forge pretty much knows what they're doing. Try their French Toast moonshine with grapefruit juice or their Chocolate moonshine with ginger syrup and apple schnapps to experience one of their signature recipes.
Smith Creek Moonshine – Need a break from shopping when visiting Tanger Outlets in Pigeon Forge? We've got moonshine for you too! Located in the outlet center, Smith Creek Moonshine offers a tasting bar where you can sample 12 unique flavors from Sweet Tea to Ginger Snap.
Sugarlands Distilling Co – Sugarlands offers several different experiences for adventurous tourists and moonshine enthusiasts. Try their "Blended Cocktails Tour" for a private visit and two hand-crafted cocktails, or go all in and test your skills with the "Distiller for the Day Workshop" where you participate in making a batch of Sugarlands Shine from start to finish.
Doc Collier Moonshine – Drop on by and check out some of the equipment that William "Doc" Collier and his family have used for generations to whip up moonshine in the Smokies. This distillery is set up like an old-fashioned mercantile store, reminiscent of the shop where Doc's daddy first sold the shine. You just might fall in love with their delicious Apple Pie Moonshine, but if you do, be sure to stock up because Doc doesn't sell online.
Whether sippin' shine at one of our great distilleries, hob nobbing with Hollywood stars at Hollywood Wax Museum, chasing down a band of robot outlaws at Castle of Chaos, or hiking the Smoky hills, we hope your visit to our mountain town is packed full of great memories!